Site Menu | New Books | Bio | Newsletters | Simple Booklist | Annotated Booklist | Media Page |



An Annotated List of Jo Beverley's novellas.




For a menu of all my work in e-book, please click here.

Over the years I've written quite a few novellas for anthologies. I know that readers often don't want to buy an anthology for just one or two stories, so I'm delighted that nearly all my novellas are now coming out individually as e-books. You'll see by each title whether it is in e-book, or when it will be.

If you're interested in one not yet out, please join my e-mail list, or follow me on Facebook to get all the latest news. Information and links are at the bottom of the page.

I enjoy letting my imagination fly in novellas, so as you'll see, some of mine include fairies, dragons, and even a planet far, far, away. All, however, are romances with a happy ending.

MISS FINCH AND THE ANGEL
in THE LAST CHANCE CHRISTMAS BALL, a new Word Wenches anthology
in trade paperback and e-book, October 2015
Regency period.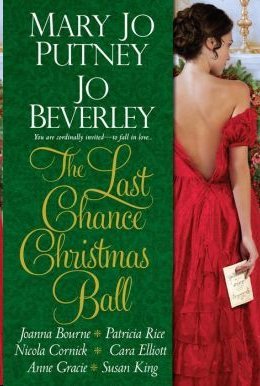 The authors at the Word Wenches blog have put together another collection of fun Christmas romances all woven around a very special Christmas ball.
Read an excerpt





FAERY WEDDINGS

Three novellas in which the powerful race of Faery brings about human unions.
Two of the novellas have been previously publish. One is new.
The Marrying Maid was published in 2010 in Songs of Love and Death.
Rob Loxleigh must find his destined bride or Faery will wreak vengeance on his family. But what if his bride has no intention of wedding a fashionable rake?
Read a free excerpt of this story here.

The Lord of Elphindale was published in 1998 in Faery Magic.
Gwen Forsythe is startled to be told that she's part Faerie, and that it is her duty to marry into the human family of Elphinson to strengthen the Faerie bond there. Gwen is not at all reluctant to wed her childhood friend, but Sir Andrew Elphinson is about to offer for another lady. Can she really seduce him at Faery's command? She may have no choice.
Read a free excerpt of this story here.

Titania's Gift, a new story.
Sarah, Lady Vaughn, is a perfect lady stuck in a very imperfect marriage, but that's no excuse for slipping out to join in pagan revelry. Perhaps she's justly served when a faery blessing tumbles her into love with a stranger, but how can there ever be a happy ending for any of those involved?
Read a free excerpt of this story here.

Click here to buy this e-book collection of faerie love and magic.

This next one includes two novellas, one of which has been unavailable for a long time.
REGENCY VALENTINES
Two Regency novellas and some extras.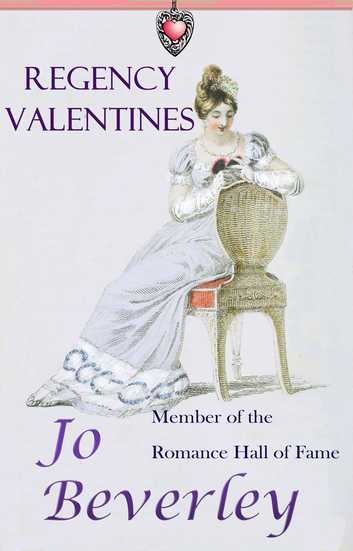 Both novellas have been previously published.
If Fancy be the Food of Love... was published in 1991 in A Regency Valentine, which is hard to find. In that anthology Juno and Chart's story was interwoven with four others. To publish it alone has meant extensive rewriting, but the basic story is the same. These characters connect to the Classic Regency novels listed here.

Saint Agnes and the Black Sheep was published in 2012 in A Cast of Characters, a large collection of eclectic stories. This version has been expanded, but is essentially the same.

Read an excerpt
This volume also includes traditional Valentine spells and games; an essay about odd marriages; Jo Beverley's guide to those pesky English peerage titles; an essay on the importance of money in the Regency; and some pre-written Valentine's Day verses sold in the Regency for gentlemen unable to come up with their own. Click here for e-book buy links.


MISTLETOE KISSES AND YULETIDE JOY
A boxed set of Christmas delights.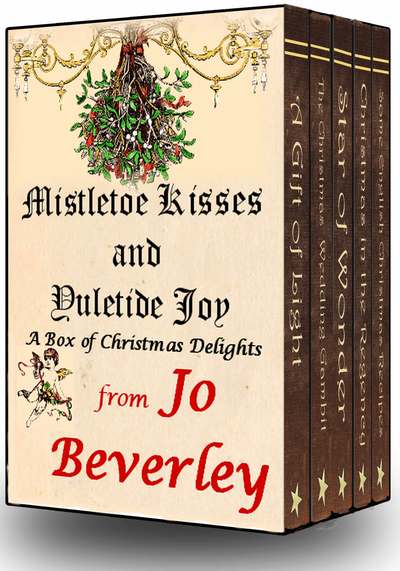 What's in the box? Three previously-published novellas set at Christmas, a description of Christmas in the Regency period, and some seasonal recipes, new and old. The novellas are, A Gift of Light, first published in 1996 in The Christmas Cat; The Christmas Wedding Gambit, which has been freely available on my web site for years, and Star of Wonder, set in 999 AD. This was published in 1999 as Day of Wrath in STAR OF WONDER so I've switched the title. I hope that doesn't confuse. The box also includes an essay about Christmas traditions in the real Regency and some seasonal recipes.
It would make a great small gift for anyone with an e-reader. Buyers from Kindle US can get a download code. Other buyers can get one from Smashwords for use with any e-reader. Write the code in a card and you have a nice stocking stuffer or small gift.

Click here for e-book buy links.

DARE TO KISS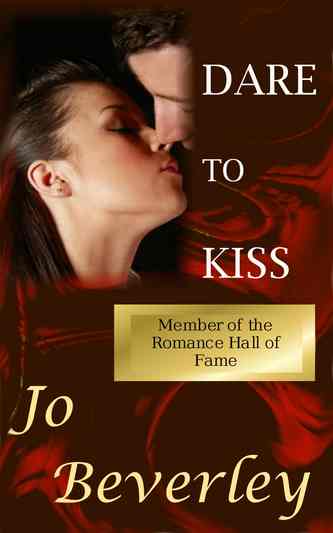 A novella set in the Georgian Malloren world, available as a Kindle e-book. It will be available for other e-readers in the new year.
This has never appeared in print.

A mother fleeing scandal with her children finds herself homeless on a cold November day. A passing gentleman offers her refuge which she can't refuse, but why is he so secretive, and why does he live in seclusion in a neglected house? When Lily discovers the answers she sees hope for herself and her children, if only she dare fight for it.

Click here for e-book buy links.


THE MARRYING MAID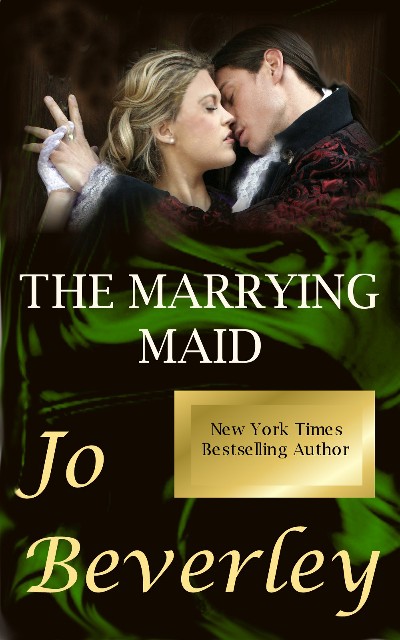 First published in Songs of Love and Death. This story is now available as an e-book.

A Georgian rake, a prim spinster, Faery, curses, and a twist on Robin Hood! A faerie curse hangs over the family of Rob Loxleigh unless he can find his destined bride, his "marrying maid." But what if the very proper lady flees such a rakish aristocrat? A desperate pursuit with seduction in mind.

The Marrying Maid was an honorable mention in Best Science Fiction, 2010

Read an excerpt here

Click here for e-book buy links.
MISS BROCKHURST'S CHRISTMAS CAMPAIGN
in MISCHIEF AND MISTLETOE, a Word Wenches anthology
Trade paperback and e-book, October 2012, Mass market paperback, October 2013
Click here for Amazon.
Regency period.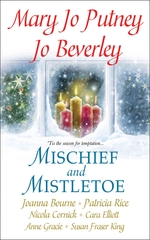 The authors at the Word Wenches blog have put together a collection of fun Christmas stories involving "wicked wenches" -- that is, ladies breaking the rules. In my story, the heroine, notorious for jilting gentlemen, realizes whom she really loves and will break the rules to win him.
"...delectable tidbits, confections that charm and delight, like the holidays themselves." Romantic Times
"...a sweet gift for the reader." Publishers Weekly.
Read an excerpt

A MUMMER'S PLAY
Published in print in A REGENCY CHRISTMAS, 1995
This story will be available as an e-book in December 2013
Regency period

Justina Travers is sure that her beloved fiancee was killed because of the treason of his commanding officer, Lucky Jack Beaufort. Now that Lucky Jack is home and Duke of Cramoore, she intends to end his luck forever. But after sneaking into his home as part of a Christmas mummers' play, she begins to uncover secrets that change everything.

Click here to pre-order this e-book.


The similarity of the next two titles is completely coincidental.
They were written a decade apart.

THE DEMON'S MISTRESS first published in IN PRAISE OF YOUNGER MEN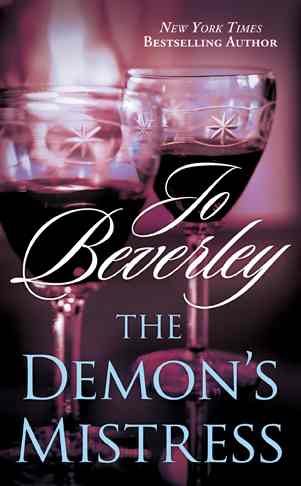 Regency period. RITA Finalist.
This story is now available as an e-book.
Click here for buy links.


Lord Vandeimen returns home from Waterloo to ruined estates, his family all dead. His attempts to recreate something of his heritage leave him deep in debt, and he is ready to commit suicide when a woman bursts into his room with an extraordinary proposal. Mrs. Maria Celestin, widow of a wealthy foreign merchant, will pay him a small fortune to pretend to be her betrothed husband for six weeks.

Van cannot refuse, but he is wary of this outrageous good fortune. He is also intent on getting into the widow's bed. He doesn't expect to be dragged back into life, and into love, or into a battle to win the woman who bought him.

This story is also available as an omnibus edition, Three Heroes, with two connected novels, The Dragon's Bride, and The Devil's Heiress, available as an e-book from all the usual places.
"Darkly erotic." Publishers Weekly.
"Poignant..." Romantic Times.
Read a sample here.
Read my article, In Praise of Younger Men, that inspired this anthology


THE DEMON'S BRIDE
first published in Moonlight Lovers long, long ago.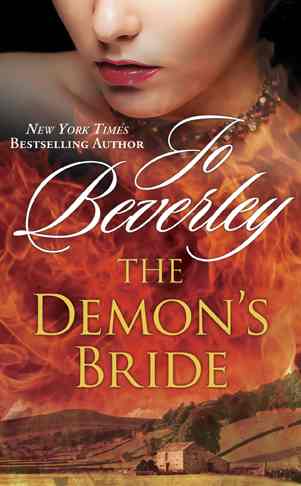 Georgian period.
Available as an e-book from all the usual places.
Rachel Proudfoot has enough trouble resisting the temptation of rakish Lord Morden without supernatural intervention. When she plays the traditional role of the Demon's Bride, however, a mighty earth spirit wants to use their passion to return to the world.
Read a free sample here.
Click here for e-book buy links.


THE RAVEN AND THE ROSE

First published in Chalice of Roses 2010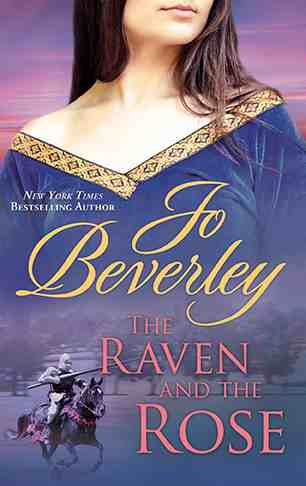 Medieval period.
This story will be available as an e-book in March 2014.
Click here to preorder.

The Raven and the Rose is set in the middle ages, close to Glastonbury, the heart of Grail mythology.

Sister Gledys of Rosewell was sinning again. She can't stop her dreams about a handsome knight, nor the feelings stirred by them. When an old woman and a raven summon her to leave her convent to find her knight, she's challenged to sin in an even greater way. But if she's to believe the message, only she and he together can summon the Holy Grail and bring peace to a country devastated by civil war.
Read chapter one here


THE DRAGON AND THE PRINCESS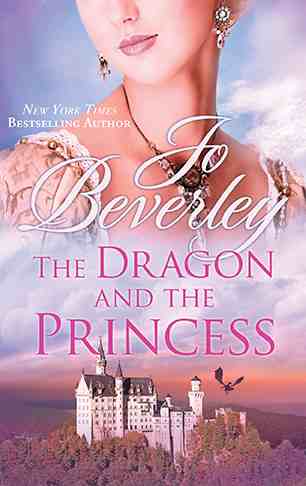 Originally published as The Dragon and the Virgin Princess in the anthology, Dragon Lovers. This story is now available as an e-book.
Click here to buy.
Fantasy with a medieval style.

Rozlinda of Saragon is the official SVP -- the Sacrificial Virgin Princess -- and she can't wait for a dragon to come so she can do her duty. After all, she'll only have to sacrifice a cup of blood and then at last, at long last, she'll no longer need to be V. But when a dragon flies in from the enemy nation of Dorn, things don't go quite as expected.
Read chapter one here.
Just for fun, see my captioned dragon pictures here.



THE TROUBLE WITH HEROES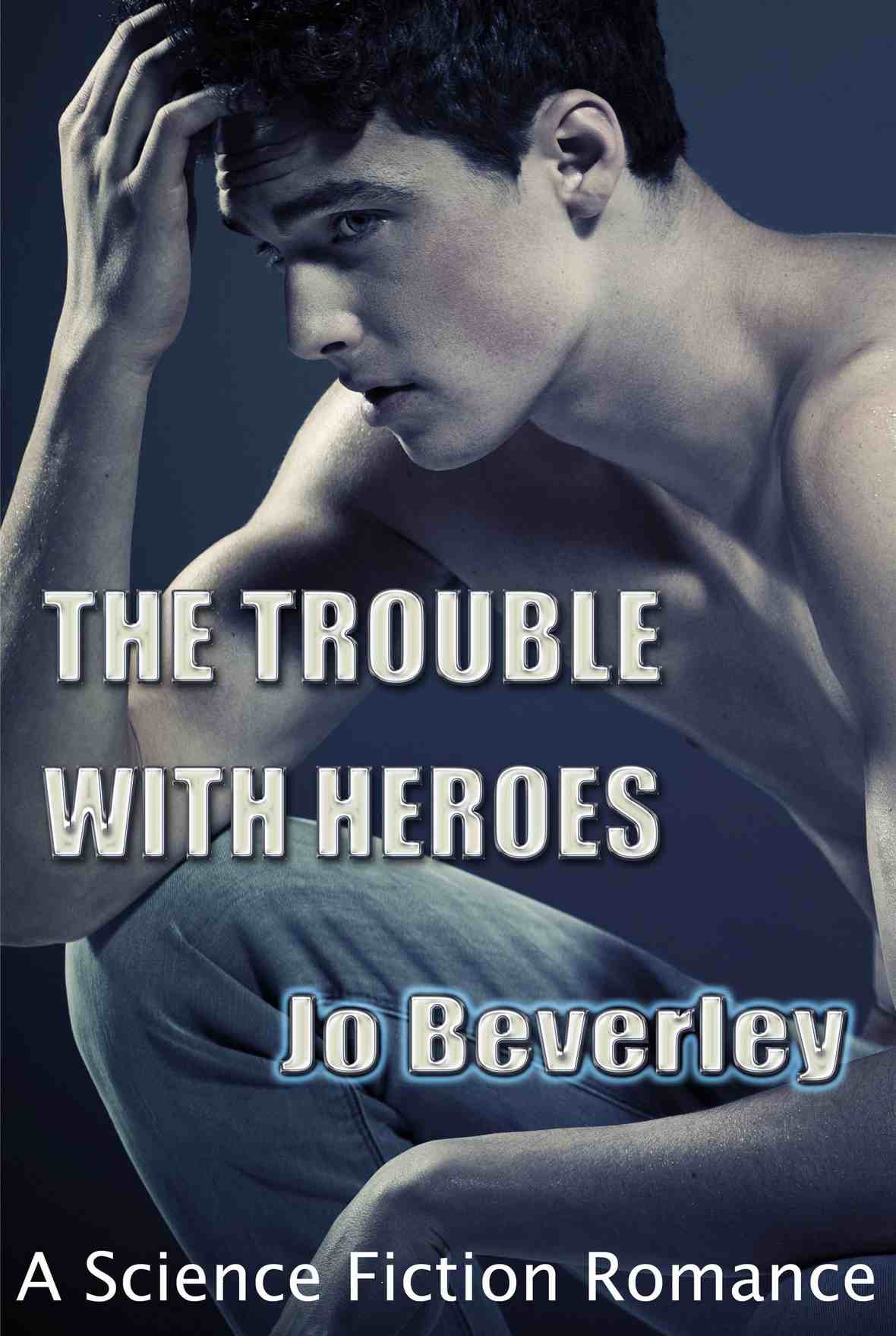 Winner of the Sapphire Award for Best Science Fiction Romance, short form, 2004.
First published in the anthology Irresistible Forces, this story is now available as an e-book.

Click here for e-book buy links.
The people of Gaia think themselves blessed to be living on the most perfect colony world ever discovered, even if there is a strange energy force that occasionally destroy people. Only very occasionally. Rarely, really. Until now. Now, the entire population is threatened and all the obvious heroes are dead.

Which leaves an unlikely hero and the woman he loves.
"The Trouble With Heroes" is a brilliant novella" The Romance Reader.

"...an imaginative and moving allegory about war: those we've fought in the past and those we may fight in the future and on far-off worlds." Bookloons.com

"I adored it... Beverley did a brilliant job of capturing real human emotions in an otherworldly situation." All About Romance

"...a moving exploration of the consequences of war and power on those who fight as well as those left behind." Romantic Times
Read an excerpt or buy now here.


DAY OF WRATH (RITA finalist)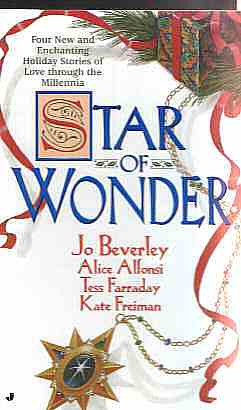 First published in STAR OF WONDER, a millenial collection in 1999.
Available now with other Christmas stories in a boxed set
"Mistletoe Kisses and Yuletide Joy
Click here for buy links for the boxed set.

When her childhood friend and love marries another, Wulfhera of Froxton enters a nunnery, but in December 999 Viking raids and the panic surrounding the coming of the millennium cause her to flee home. There she finds Raef a widower, but intent only on despair and suicidal vengeance. Then, on the shortest day of the year, she finds a precious jewel in the belly of a fish. Is it the fabled Star of the Magi? Can it really help her to bring peace, and save the life of the man she loves?

"...well-crafted tale of love and enchantment. Two sisters find unexpected love and help bring peace between two enemy warriors in Jo Beverley's passionate, Viking-filled "Day of Wrath." Fans of the medieval period may be particularly interested in the historical detail, especially the way in which people then viewed the millennium." Read an Excerpt A GIFT OF LIGHT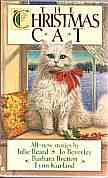 First published in THE CHRISTMAS CAT, November 1996
Regency period
Available now with other Christmas stories in a boxed set
"Mistletoe Kisses and Yuletide Joy
Click here for buy links for the boxed set.



Kitty Mayhew is living quietly during her first Christmas since her parents' deaths, but then her new cat and her maid entangle her with the rake who lives nearby. A rake who doesn't believe in the Christmas spirit. Kitty tries to resist, but soon her better nature and his intriguing charm draw them closer and closer to temptation.



SAINT AGNES AND THE BLACK SHEEP
First published in A Cast of Characters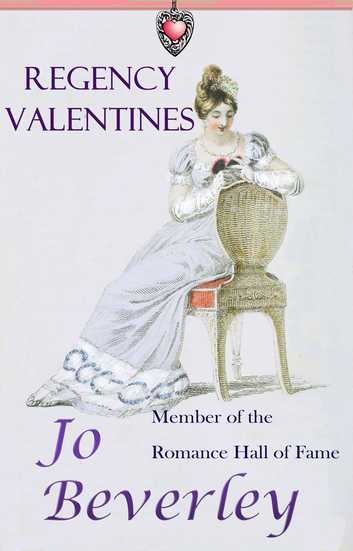 Now available in a Jo Beverley e-collection, Regency Valentines.

Read an excerpt




THE WISE VIRGIN
in THE BRIDES OF CHRISTMAS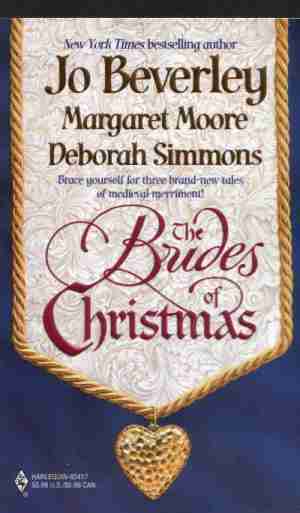 Medieval period
Harlequin Historicals, October 1999. 0-373-83417-9
This novella was reissued in a new collection, A Bride By Christmas, in October 2008


It was a daring attempt to rescue Lady Nicolette de Montelan before her father finds out that she's pregnant with an enemy family's child, but it goes awry because Nicolette's cousin Joan has played the Blessed Virgin in the Christmas reenactment. After all, for Nicolette to do it would have been sacrilege!
Now, however, Lady Joan finds herself trapped in a cave on Christmas Eve with the great Edmund de Grave, the Golden Lion, and neither of them are pleased about it. He's annoyed that his plan has been spoiled and worried about his brother, now in enemy hands. She's disappointed that a distant hero has turned out to be the sort to get a lady with child outside of marriage. A mighty battle ensues, but one that ends up breaking ancient hatreds and bringing the true spirit of Christmas and love to everyone around.
Read an Excerpt

THE LORD OF ELPHINDALE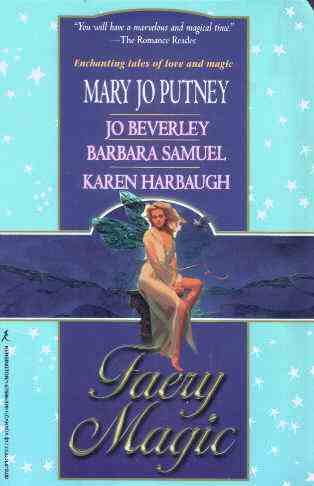 Regency period.
First published in FAERY MAGIC Kensington, January 1998


Now available in the e-collection, FAERY WEDDINGS

Gwen Forsythe is startled, to put it mildly, to be told that she's part Faerie, and that it is her duty to marry into the human family of Elphinson to strengthen the Faerie bond there. It's not that she doesn't want to marry Sir Andrew Elphinson, her childhood friend, but Drew doesn't care for her, and is about to offer for another lady. Can she really seduce him at Faery's command? She may have no choice.




THE DETERMINED BRIDE
First published in MARRIED AT MIDNIGHT, 1996 This story will be published as an e-book due course.
Georgian period


Tricked by a clever seducer, Kate Dunstable finds herself a pregnant army camp-follower. She will not let her child be born a nameless bastard, however, and pursues the father into a battlefield, determined on marriage. There she finds that her lover is dead. In despair and in labor, she accepts the offer of one of his fellow officers, a man who expects to die.

But Charles Tennant does not die, and soon they discover that their midnight marriage has created as many problems as it solved.

FORBIDDEN AFFECTIONS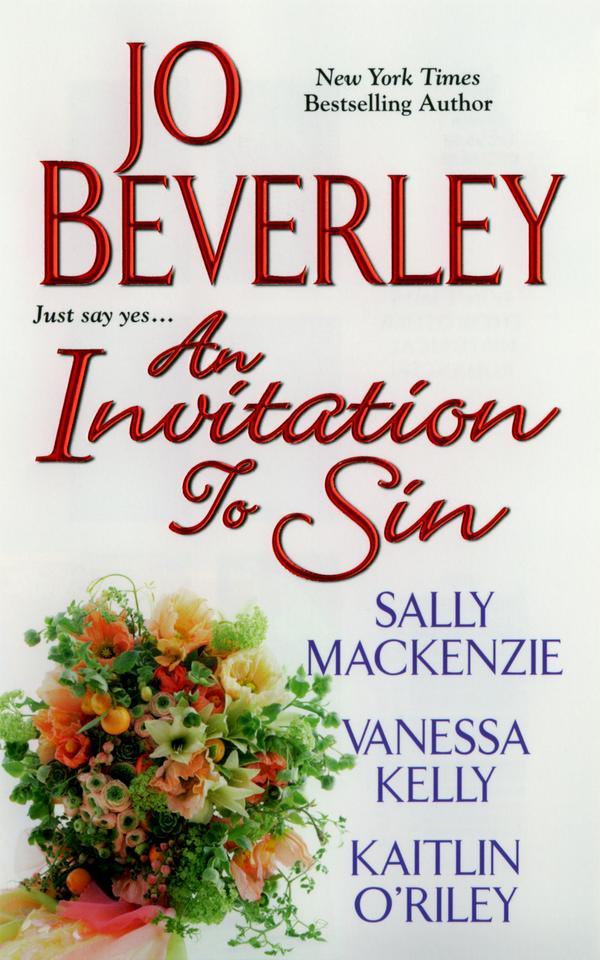 Published in a number of anthologies, most recently An Invitation To Sin, February 2011
This story will be available as an e-book in 2015
Regency period

Anna Featherstone is just sixteen and should never even encounter a person like the wicked Earl of Carne, but when she discovers a secret door, she can't resist exploring, especially when the door and all about it comes straight out of her favourite gothic novel.

Thus she does meet the wicked earl, and when he tries to seduce her, he doesn't know what's hit him. Literally!

Anna's been struck, too, however. By his fatal charm....

Buy the anthology now from Amazon.com

LORD SAMHAIN'S NIGHT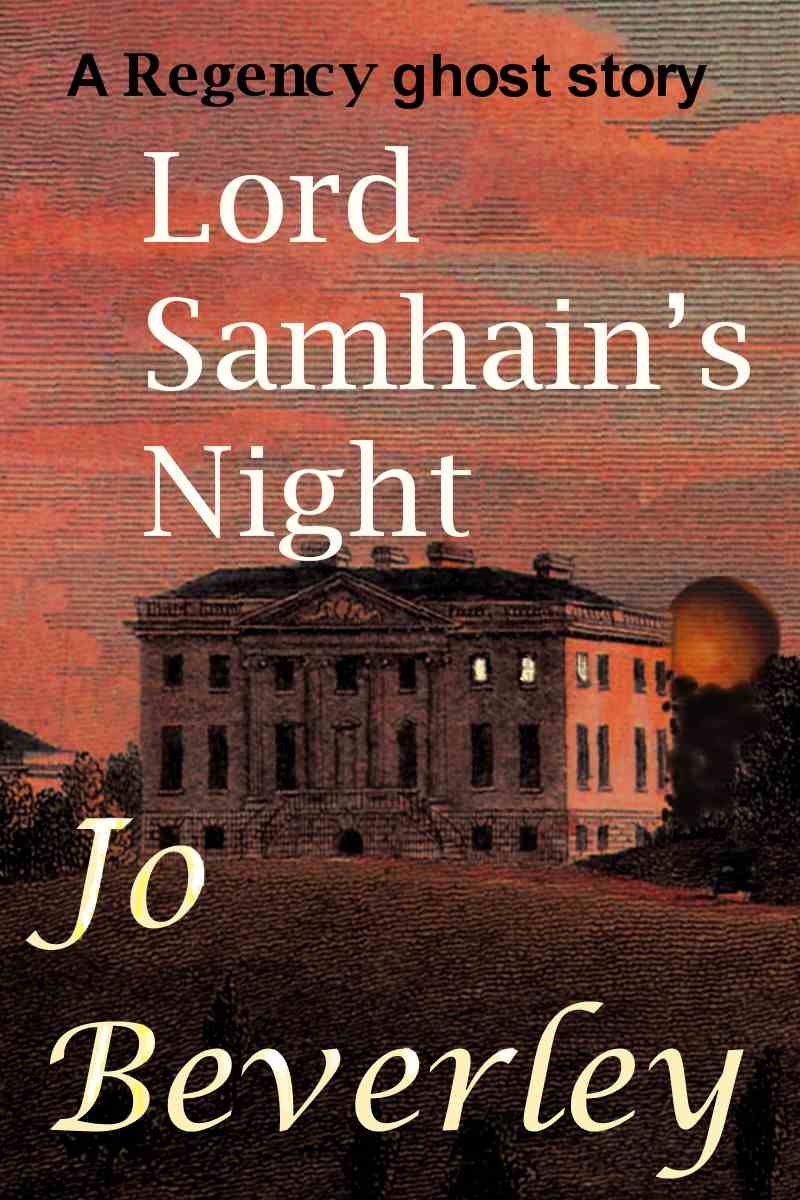 First published in ALL HALLOWS' EVE, October 1992 0-8027-1252-5
Regency period

A childish superstition turns serious for Phoebe Batsford and the two brothers who are suitors for her hand. The trouble is that she ends up engaged to marry the wrong one, and only a ghost can sort it all out.

This novella only came out in a short run of hardcovers. You'll be really lucky to find a copy, but it's now available as an e-book in your preferred format

Click here for e-book buy links.


TWELFTH NIGHT
in A Christmas Delight Zebra, 1991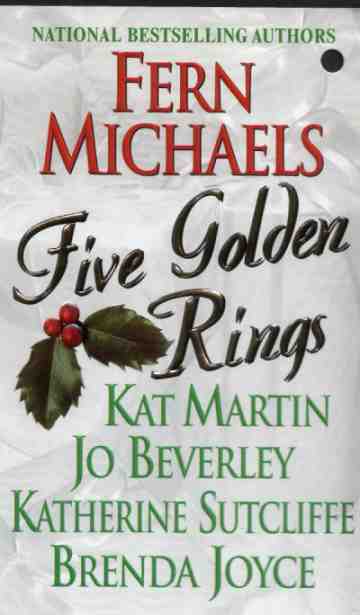 A Christmas Delight is out of print, but this story was in a new collection, FIVE GOLDEN RINGS
Zebra, Oct. 2000 0-8217-7062-4


Every year at Christmas, the Conyngham family host a grand medieval twelve day feast, and this year Lady Alice Conyngham is organizing it for the first time. It presents only the usual problems until a man from her past turns up -- Tyr Norman, who had seduced her and abandoned her on Twelfth Night. But Tyr, now Lord Ivanridge, seems to think that he is the injured party, and he has the same power as before to melt Alice's common sense and willpower.


A very short story.
THE FRUIT PICKER
in WRITERS OF THE FUTURE Vol IV 1988 Bridge, 0-88404-314-2

In a world where meat eating is beyond the pale, even the plants have feelings.
This is a very short story. If you want it, be sure to buy the right issue of this annual collection. It is now also available in BEST OF WRITERS OF THE FUTURE in trade paperback format.
Contact AMAZON.COM
To keep up to date with my news you can follow me on Facebook by clicking on the box below. Remember that to have a chance to see most of my posts you should click the "like" button at the top of the page next to my name.






Facebook doesn't send everything I post to all my followers. Ensure that you get all my news by signing up for my occasional newsletter.

The addresses are never shared or sold, and you can leave the list at any time. Simply enter your e-mail address in the box below.





If you'd like to talk to other readers about the books, you can join a chat list by e-mailing here

Join Jo and friends for talk about historical fiction on the blog, Word Wenches.

More information about the Company of Rogues.

Back to the site menu