Site Menu | New Books | Bio | Newsletters | Simple Booklist | Annotated Booklist | Media Page |


My novels for e-readers.
Most of my novels are available as e-books, and can be found on your favorite e-book-seller site.
There are links here to the most common ones.
Most of my books are also available in print.
To get the latests news and fun historical content, sign up for my newsletter.
The addresses will never be shared or sold, and you will be able to leave at any time.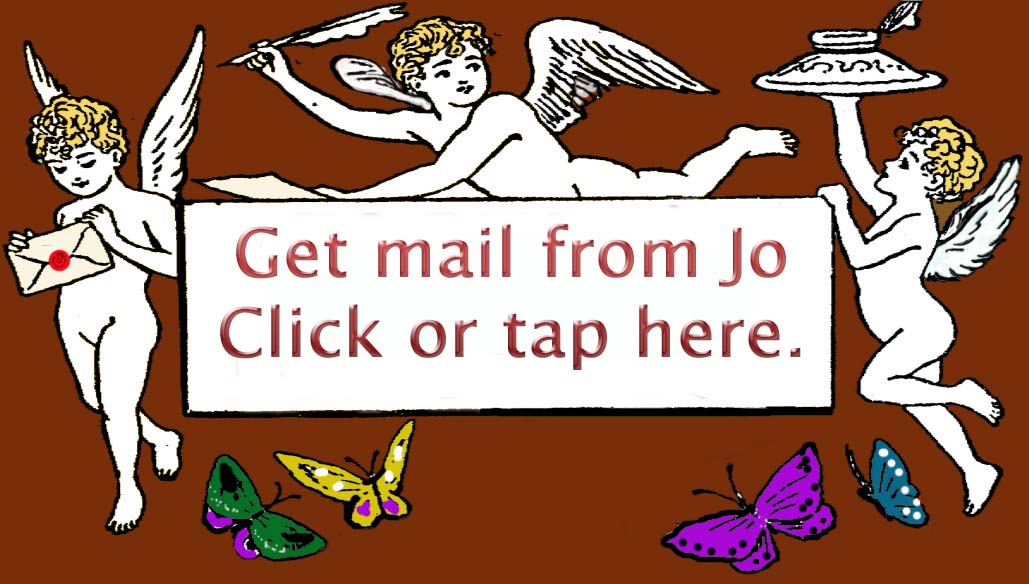 The Company of Rogues.
The Malloren World
The Traditional Regency Romances
The Medievals
The Novellas
First, the Company of Rogues series, set in the Regency. All the books are now available in e-editions, so if you become hooked there's nothing between you and another fix!

Here's a short video about the Rogues.
All the Rogues books are now available as e-books.

AN ARRANGED MARRIAGE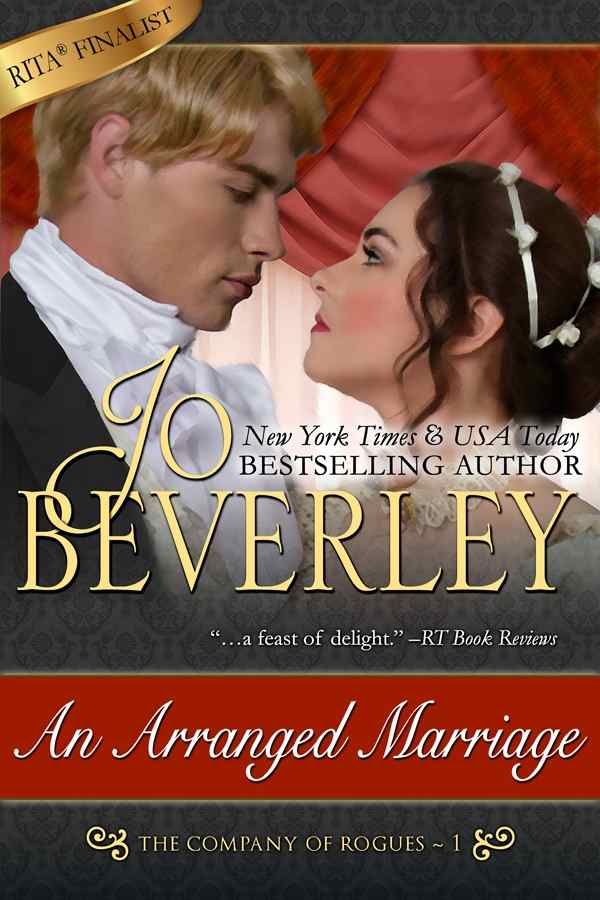 (RITA finalist; Reader's Choice Award; Romantic Times Best Regency Novel; Bookrak bestseller.)

Ruined through her vile brother's schemes, Eleanor Chivenham is in despair until she is offered rescue by marriage, but marriage to a charming rake with an infamous French mistress. Eleanor accepts, but she is determined to treat this arranged marriage with cool dignity. Once she meets Nicholas Delaney, however, her confidence in her ability to do that is shaken. Not only does he stir her senses and touch her heart, but she glimpses trouble and pain beneath the smooth exterior.

Nicholas is indeed troubled. Committed to serving his country by seducing secrets out of a French spy, he is then persuaded by his brother to marry the woman the earl has ruined. Are even his fabled abilities with women up to this task? To assist him, he gathers together again the schoolboy group he started years before, the Company of Rogues, but even they cannot protect Eleanor and Nicholas from the dark plots being woven around them. Plots that threaten not only their fragile marriage, but their lives.

In 1991 Romantic Times acclaimed An Arranged Marriage as "a splendid love story.... This immensely appealing pair of lovers will utterly captivate readers, while Ms. Beverley's commanding ease with the Regency period provides a veritable feast of delight for the true connoisseur. Bravo!"

First publication, June 1991
Read an Excerpt here.

You can buy now by clicking on these links.
Amazon US
Amazon Canada
Amazon Britain
For other countries, please go to your own Amazon site.
For Nook US
For Nook UK
iBooks US
iBooks UK
Google Play UK

(Winner: RWA RITA Award, Best Regency; Golden Leaf Award, Historical:Best Regency Romance, Romantic Times)

The Duchess of Belcraven committed a folly, and bore her husband another man's child. Only a third son, however, so all was patched over. Then the two older boys drowned, leaving disaster. Now, over twenty years later, the duke discovers that he has a daughter, a child of his blood, and he compels the two to marry -- the arrogant ducal heir, devastated to learn for the first time that he is illegitimate; and the independent schoolteacher raised in the principles of the Rights of Women. Is there any common ground at all?

Read an Excerpt here.



"Ms. Beverley is a storyteller par excellence, whose vivid and mesmerizing characters totally engage all the reader's emotions...topnotch Regency reading pleasure." Romantic Times

First published, Feb. 1992
You can buy now by clicking on these links.
Amazon US
Amazon Canada
Amazon Britain
For other countries, please go to your own Amazon site.
For Nook US
For Nook UK
iBooks
iBooks
Google Play UK


Leander, Lord Charrington has a problem. Raised to be a charming diplomat, women fall in love with him. He, however, seems unable to fall in love with them. For wife, therefore, he wants a woman he can live with on honest terms, and an impoverished widow seems ideal. Judith Rossiter thanks heaven for this escape from disaster. But can she keep to the terms of their agreement and not fall in love with her charming husband?

A "splendid new Regency novel by one of the genre's most gifted storytellers.... a beautifully complex love story that will become a treasured addition to every Regency connoisseur's shelf." Romantic Times.

First published November 1992


Read an Excerpt
You can buy now by clicking on these links.
Amazon US
Amazon Canada
Amazon Britain
For other countries, please go to your own Amazon site.
For Nook
iBooks US
iBooks UK



The death of her husband has freed Serena Riverton from life as an abused sex-object, but now her brothers plan to force her into another similar marriage. Fleeing, she is helped by Francis, Lord Middlethorpe. A passionate encounter leaves her pregnant, but no keener on marriage than before. He is virtually committed to marrying a sweet-natured lady. They marry anyway, and struggle to make something of their lives amid the disapproval of all around them.

Read an Excerpt


"Nobody does Regency better than Jo Beverley, and this latest tale adds to the argument that she may just be the best." Rendezvous

"Ms. Beverley breaks just about every rule in the book and makes us beg for more in this enthralling love story. A fabulous dreamspinner, Ms. Beverley is well on her way to becoming one of the great names of the romance genre." Romantic Times.

You can buy now by clicking on these links.
Amazon US
Amazon Canada
Amazon Britain
For other countries, please go to your own Amazon site.
For Nook US
iBooks US
iBooks UK
Google Play



Miles Cavanagh just wants to be in the Shires hunting, but instead he is unwilling guardian to a twenty-year-old heiress. He hopes this will be merely a symbolic position, but that's before he discovers that Felicity Monahan is hell-bent on marrying a fortune-hunting wretch. And before he begins to fall in love with her.

Despite her own growing love for Miles, Felicity has excellent reasons for her choice. Miles is determined to thwart her. Equal in will and ruthlessness, they are soon on a course that is dangerous indeed.

"...a smashing book: fast paced, tense and compelling, with a touch of Irish magic." GEnie Romance Exchange

First published, Nov. 1995
Excerpt from Dangerous Joy
You can buy now by clicking on these links.
Amazon US
Amazon Canada
Amazon Britain
For other countries, please go to your own Amazon site.
For Nook
iBooks US
Google Play Books UK


Amazon US
Amazon Canada
Amazon Britain
For other countries, please go to your own Amazon site.
For Nook
iBooks US
iBooks UK



NOTE. The following three stories can be bought in an omnibus edition Three Heroes which will be a bargain! It also has a cool cover. Scroll down a bit.

Amazon US
Amazon Canada
Amazon Britain
For other countries, please go to your own Amazon site.
For Nook
iBooks US
iBooks UK




As above, you can buy The Dragon's Bride and two other stories cheaper in Three Heroes than buying the stories individually.

Amazon US
Amazon Canada
Amazon Britain
For other countries, please go to your own Amazon site.
For Nook
iBooks US
iBooks UK




As above, you can buy The Devil's Heiress and two other stories cheaper in Three Heroes than buying the stories individually.

Amazon US
Amazon Canada
Amazon Britain
For other countries, please go to your own Amazon site.
For Nook
iBooks US
iBooks UK






This contains the novella, The Demon's Mistress, and the two novels, The Dragon's Bride and The Devil's Heiress, which are about three friends.
Amazon US
Amazon Canada
Amazon Britain
For other countries, please go to your own Amazon site.
For Nook
iBooks US
iBooks UK






Amazon US
Amazon Canada
Amazon Britain
For other countries, please go to your own Amazon site.
For Nook
iBooks






Amazon US
Amazon Canada
Amazon Britain
For other countries, please go to your own Amazon site.
For Nook
iBooks






Amazon US
Amazon Canada
Amazon Britain
For other countries, please go to your own Amazon site.
For Nook
iBooks






Amazon US
Amazon Canada
Amazon Britain
For other countries, please go to your own Amazon site.
For Nook
iBooks






Amazon US
Amazon Canada
Amazon Britain
For other countries, please go to your own Amazon site.
For Nook
iBooks






Amazon US
Amazon Canada
Amazon Britain
For other countries, please go to your own Amazon site.
For Nook
iBooks






Amazon US
Amazon Canada
Amazon Britain
For Nook
iBooks






April 2015 Order your copy now.
Amazon US
Amazon Canada
Amazon Britain
For Nook
iBooks
Books-a-million
Google Play




April 2016 Order your copy now.
Amazon US
Amazon Canada
Amazon Britain
For Nook
ibooks.
Books-a-million
Google Play






THE MALLOREN WORLD BOOKS.


(Winner: RWA RITA Award, Historical) Amazon US
Amazon Canada
Amazon Britain
For Nook
iBooks






Amazon US
Amazon Canada
Amazon Britain
For Nook
iBooks







Amazon US
Amazon Canada
Amazon Britain
For Nook
iBooks






Amazon US
Amazon Canada
Amazon Britain
For Nook
iBooks






(Winner: RWA RITA Award Historical) Amazon US
Amazon Canada
Amazon Britain
For Nook
iBooks






Amazon US
Amazon Canada
Amazon Britain
For Nook
iBooks






Amazon US
Amazon Canada
Amazon Britain
For Nook
iBooks






Amazon US
Amazon Canada
Amazon Britain
For Nook
iBooks






Amazon US
Amazon Canada
Amazon Britain
For Nook
iBooks






Amazon US
Amazon Canada
Amazon Britain
For Nook
iBooks






Amazon US
Amazon Canada
Amazon Britain
For Nook
iBooks






Amazon US
Amazon Canada
Amazon Britain
For Nook
iBooks







Amazon US
Amazon Canada
Amazon Britain
For Nook
iBooks






THE TRADITIONAL REGENCIES


Amazon US
Amazon Canada
Amazon Britain
For Nook
iBooks







Amazon US
Amazon Canada
Amazon Britain
For Nook
iBooks







Amazon US
Amazon Canada
Amazon Britain
For Nook
iBooks







(Winner: RWA RITA Regency) Amazon US
Amazon Canada
Amazon Britain
For Nook
iBooks










Containing The Fortune Hunter and Deirdre and Don Juan.
Amazon US
Amazon Canada
Amazon Britain
For Nook
iBooks









This is a UK only edition.
Amazon Britain










(Winner: RWA RITA Award Regency) This is a UK only edition.
Amazon Britain









THE MEDIEVAL ROMANCES


Amazon US
Amazon Canada
Amazon Britain
For Nook
iBooks







Amazon US
Amazon Canada
Amazon Britain
For Nook
iBooks







Amazon US
Amazon Canada
Amazon Britain
For Nook
iBooks







Amazon US
Amazon Canada
Amazon Britain
For Nook
iBooks







Follow me on Facebook by clicking on the box below. Remember that to have a chance to see most of my posts you should click the "like" button at the top of the page next to my name.


However, Facebook doesn't send every message to everyone, so you might want to sign up for my newsletter below.
The addresses will never be shared or sold, and you will only receive the occasional newsletter. You will be able to leave at any time.

If you'd like to talk to other readers about the books, you can join a chat list by e-mailing here

Join Jo and friends for talk about historical fiction on the blog, Word Wenches.

More information about the Company of Rogues.

Back to the site menu