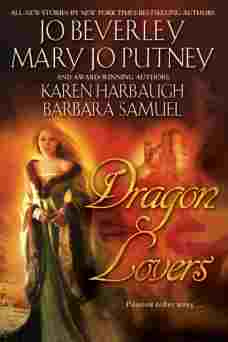 "A very good collection for all hungry draconphiles, aka dragonlovers. Well written, stylish and above all inventive, Dragon Lovers is sure to please readers of all ages." Anne McCaffrey.



Home.

Site menu

Upcoming Books

A List of Titles

About England.

Bio and picture

Contact Jo
The March 2007 edition of the newsletter.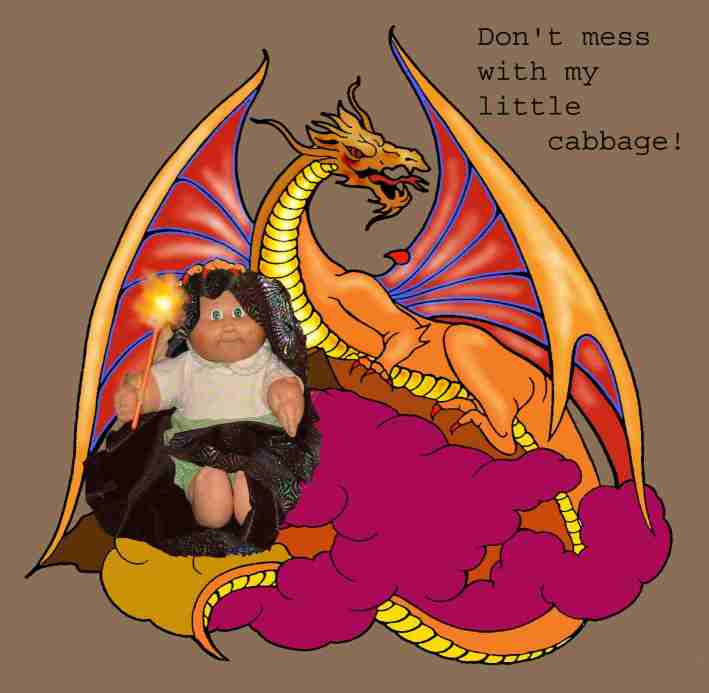 As you may know, we have some Cabbage Patch Kids chez Beverley. Bald #3 heads, to be precise. Here's the smallest, Billie, with his guardian dragon.


Hello, everyone,

Yes, I know, I've not put together a newsletter since Christmas. I'm sorry about that, but as I said, I was very busy over Christmas, mostly in finishing Lady Beware. (Incidentally, the page proofs arrived recently, and that's the last work I'll do on the book, so after that it'll be in the hands of the fates.) Then somehow the rest of January and the whole of February slipped by me, and here it is March, with Dragon Lovers arriving on the shelves, and where did the time go?

That's the main news in this newsletter. The anthology, Dragon Lovers, is moving onto shelves around North America. This is the collection put together by me and my friends who did Faery Magic - Mary Jo Putney, Barbara Samuel, and Karen Harbaugh. The strength of that collection was cohesion; the stories even interwove a little. This one is more diverse, but in interesting ways. We all approached the subject of women and dragons in different ways.

Mary Jo explores the dragon-slaying medieval knight in a typically subversive way. Karen draws on her Samurai ancestry for a water dragon from Japanese mythology. Barbara uses South West American native beliefs. And I ran off to fairytale land to play.

My story started as a spoof on the fairytale/nursery rhyme castle and its inhabitants. It even had the king in the counting house, counting out his money as the queen sits in her parlor eating bread and honey. My princess wore a high- waisted floaty dress and a tall pointy headdress with a long veil spilling out of it, and the knights in shining armor rode snow white horses.

But then something happened. It became real, and I had to figure out this world. A dragon turned up every now and then, and a princess had to go through a symbolic sacrifice to appease it. But why? Why did the dragon come? Why did it go after the offering of a little blood? When I realized that this time something would go wrong, I had more whys. Also, at nineteen Princess Rozlinda of Saragond is older than the usual SVP -- the designated Sacrificial Virgin Princess -- and distinctly restless about it. Especially the V part. Why, why, why? Well, I know the answer to the V part, but the rest?

So in the end a simple little play project became a world. Two worlds, really - Saragond and Dorn, the dragon lands - and Rozlinda discovers she's the key to the survival of both. I think you'll enjoy it, perhaps especially Seesee the dragon. If you haven't already read it, chapter one is here.

Because Mary Jo and I are both members of the Word Wenches blog, the other Wenches have graciously agreed to designate March Dragon Month. There'll be dragon-related posts here and there throughout March, and the two other Dragon Lovers authors, Barbara and Karen will be guests. In addition, Shana Abe, who is writing the wonderful Drakon series featuring Georgian shape-shifting dragons will be a guest. Check out the blog for more details.

We have a web site for Dragon Lovers.

I've put up my travel itinerary for 2007. You'll see it's a light one with not much travel far from home. I'm sorry about that, but last year was so hectic, including a trip to England, that I cut way back. Check out that page here.

For your amusement, I offer some humorous dragons. I bought a collection of dragon pictures, and some struck me as so strange that I had to put captions on them. You'll find them at this page.

All best wishes,

Jo

Return to the newsletter menu to read other issues.



If you wish to receive this newsletter by e-mail subscribe here.
These addresses are never shared or sold, and you will receive nothing from this list other than Jo Beverley's newsletter and an occasional update from her about late-breaking news.


There is a new group at Yahoo! for those who have difficulty with Googlegroups. You can be part of that group completely through e-mail. In order to join, simply e-mail here

Like the above list, there's no chat or spam. All you'll ever receive is the newsletter and occasional updates with late-breaking news.

If you'd like to talk to other readers about the books, you can join a chat list by e-mailing here

Join Jo and friends for talk about historical fiction on the blog, Word Wenches.


---
If any of this web site is difficult to enjoy, please e-mail here