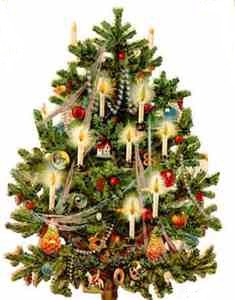 Home.

Site menu

Upcoming Books

A List of Titles

About England.

Bio and picture

Contact Jo
The Christmas 2006 edition of the newsletter.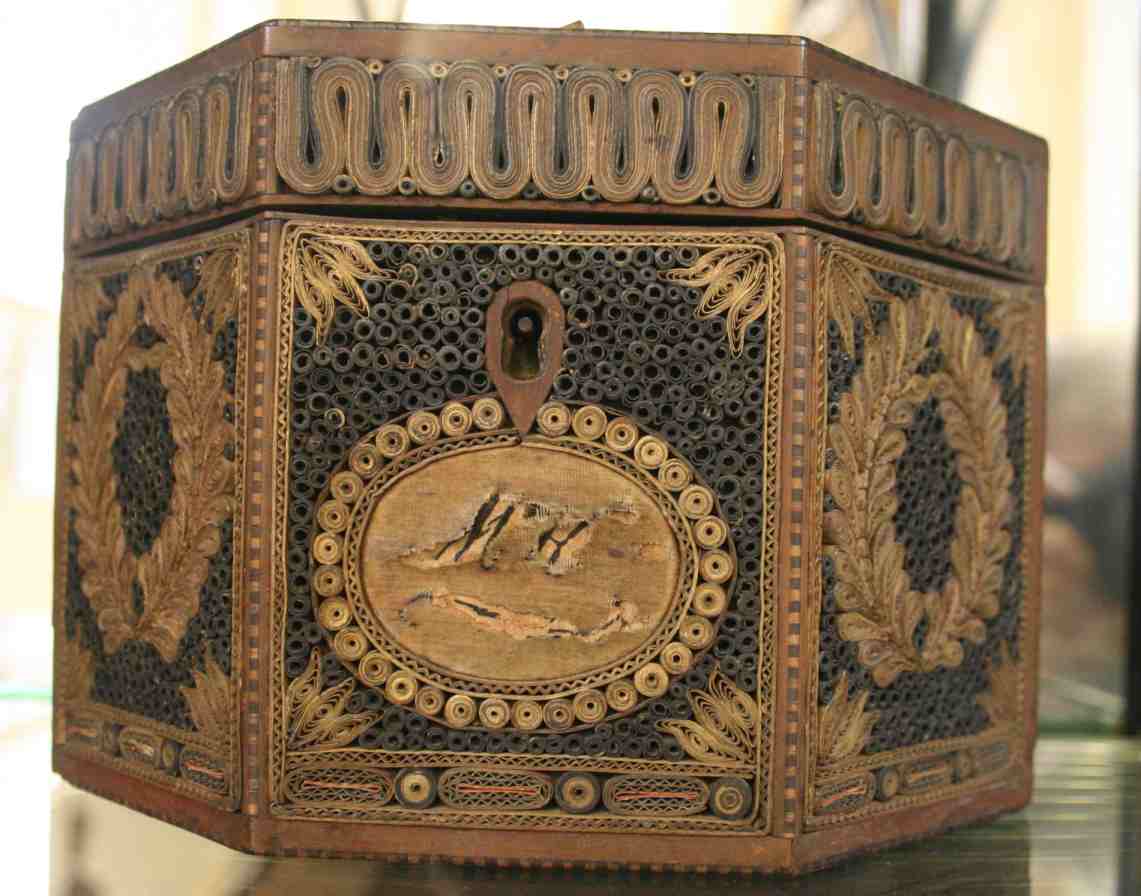 A box covered with quilling work from the Lady Lever Gallery, Port Sunlight.
Click on the picture and you'll go to a larger, clearer picture from a cabinet decorated in quilling work. The beads are are not paperwork.
Quilling is a fascinating craft where elaborate work can be made from curled paper. Many crafts were used in the past to create useful items from cheap or throwaway items. It's become trendy now and you can buy equipment and pre-cut paper. I'll admit it's easier with pre-cut, but when I used to do it a bit, I liked the idea of using scraps, and with a paper cutter it's fairly easy to cut straight, even strips of paper. A narrow stick to wind the paper around, and off you go!
Visit the web site. They also have mp3 podcasts. Check them out!

Hello, everyone, and all best wishes for the season.

Welcome to the new members. Iíve noted increasing interest from people at universities, and I gather thereís new and vibrant interest there in romance fiction. Iíve also been told that my work is of particular interest because of the solid historical roots of every novel along with entertaining stories. I hope thatís all true!

Iím sorry this is going up late. My excuse is that Lord Darien and Lady Thea have been giving me problems. Most of them have been good ones, such as revealing extra layers of motivation, but all have required tweaking or rewriting. Soon, soon, Iíll be able to take a well-deserved Christmas break.

I havenít been able to put together a new page this year, so last yearís Christmas page is still up on the web site. Those of you new to the list, please visit and enjoy. It might be worth a return trip for the rest of you. Click here for the 2005 page.

You may also enjoy my two recent posts on Word Wenches, where I put up an article I did some years ago on Christmas in the Regency. The first part is here.

In last monthís internet treats, I couldnít find the link to the period map I really wanted. Iíve been in a rush all 2006 Ė did you notice? A reader kindly sent it to me. Old map of London. Thanks, Christina!

You may be most interested in this section, which is fashionable Mayfair, with Hyde Park on the left Ė spelled Hide Park Ė and places such as Grosvenor Square and the older parks on the bottom edge of the map. Close up.

The area around St. James Square is the older fashionable part of town, where Yeovil House sits. (In To Rescue A Rogue and the upcoming Lady Beware.) Mara St. Bride was living with her sister in Grosvenor Square, and Lord Darienís house is in Hanover Square. Hanover Square immediately brings to mind the still-fashionable church, St. Georgeís, Hanover Square, the Mayfair parish church, but it was never actually in the square. The church is marked on the map by the little block and the number, I think, 79.

Thereís more about the church here.

The coming year will have Dragon Lovers, out in March, and Lady Beware, out in June. Iím not aware of any reissues at the moment.

There are reminder sign-ups for both books on the web site, but you can get on the reminder list by e-mailing my assistant directly.e-mail here
Please put either or both ďLady Beware reminderĒ and ďDragon Lovers reminderĒ in the subject line. This will put you on e-mail lists that will be used only to send a one-time reminder when the books come out, and which will then we shredded into cyberspace.

All best wishes for an abundant 2007,

Jo

Return to the newsletter menu to read other issues.



If you wish to receive this newsletter by e-mail subscribe here.
These addresses are never shared or sold, and you will receive nothing from this list other than Jo Beverley's newsletter and an occasional update from her about late-breaking news.


There is a new group at Yahoo! for those who have difficulty with Googlegroups. You can be part of that group completely through e-mail. In order to join, simply e-mail here

Like the above list, there's no chat or spam. All you'll ever receive is the newsletter and occasional updates with late-breaking news.

If you'd like to talk to other readers about the books, you can join a chat list by e-mailing here

Join Jo and friends for talk about historical fiction on the blog, Word Wenches.


---
If any of this web site is difficult to enjoy, please e-mail here