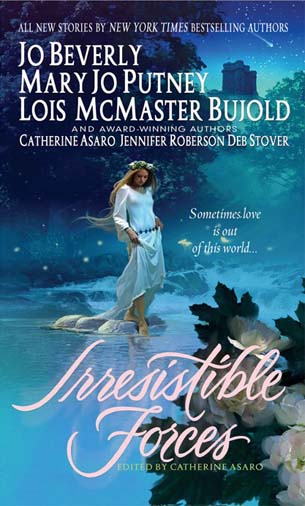 Back to the homepage.

The site menu

Upcoming Books

A List of Titles

Articles on various subjects

About England.

Bio and picture

To contact Jo Beverley




The January 2006 edition of the newsletter.

After sending a short and sweet Christmas newsletter, I realized I had entirely forgotten all the books arriving in stores in January! My excuse is always that my head is in imaginary worlds. At present that is Lord Darius, Mara St. Bride, and a slow gathering of Rogues to handle some issues to do with Hal and Blanche. Not to mention the opium addiction.

So, to catch up. First we have the mass market paperback edition of Irresistible Forces, the SF Romance anthology that came out in 2004. Stories by me and Lois McMaster Bujold were finalists for the Sapphire Award for Best SF Romance, and I'm delighted to say I won. Lois's story was also nominated for the Nebula Award. There's more about this collection here.

In addition, this is the month that six of my titles are available at only $4.99. Lord of My Heart, Dark Champion,The Dragon's Bride, The Devil's Heiress,Hazard, and Devilish. This is a special promotion, so you're most like to find the books in Walmart, but they are available anywhere. These are the original novels and covers, but at a lower promotional price. Click here to see them all. (The background is the step back to The Rogue's Return.

Speaking of The Rogue's Return, it's not long now until Simon's story is out. The Rogue's Return is a March book, but that means it could appear in late February. I've started a new service. If you wish, you can sign up to receive a one-time e-mail when the book is arriving on shelves around North America. I already have a long list. You can see the cover and join the list here.

I'll admit this should serve my interests as well as yours, as placement on bestseller lists is often a result of momentum as totals. What I mean is that a book might sell 50,000 copies in the first month out, but if that's evenly spread it may only reach a moderate position on a bestseller list. On the other hand, if most of those sales were in the first week, it would hit much higher.

Total sales count as much as bestseller list ratings, but you know how it is, there's that irrational dazzle effect. A high point on a bestseller list dazzles my publisher to excellent effect, meaning they 'll stay keen to buy more books from me. I've also set up another list for the same one-time alert when Lord of Midnight is re-released in July.

All best wishes,

Jo

Return to the newsletter menu to read other issues.

If you wish to receive this newsletter by e-mail subscribe here.
These addresses are never shared or sold, and you will receive nothing from this list other than Jo Beverley's newsletter and an occasional update from her about late-breaking news.


There is a new group at Yahoo! for those who have difficulty with Googlegroups. You can be part of that group completely through e-mail. In order to join, simply e-mail here

Like the above list, there's no chat or spam. All you'll ever receive is the newsletter and occasional updates with late-breaking news.

If you'd like to talk to other readers about the books, you can join a chat list by e-mailing here

Join Jo and friends for talk about historical fiction on the blog, Word Wenches.


---
If any of this web site is difficult to enjoy, please e-mail here