Site Menu | New Books | Bio | Newsletters | Simple Booklist | Annotated Booklist | Media Page |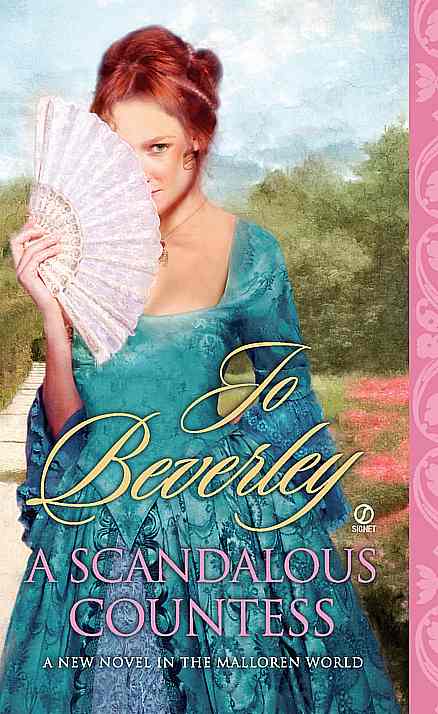 A first look at A Scandalous Countess
"

A SCANDALOUS COUNTESS is an exceptionally entertaining read. I flipped through the pages as quick as my eyes could scan each and every word. I was that engrossed in the storyline. A SCANDALOUS COUNTESS is brimming with wit and passion; two very important elements in any romance novel. Jo Beverley is one of my top ten favorite historical romance authors, and I have read all of her novels to date. Ms. Beverley never ceases to surprise me with her genius and creativity. I will be patiently awaiting her next release."
Romance Junkies.

Lord Dracy, impoverished, scarred ex-naval officer, has triumphed. His horse has won a race and a grand prize, but now the loser, the Earl of Hernescroft, offers him a substitute prize -- his widowed daughter, a beauty who will bring twelve thousand pounds. There is the matter of the scandal, but she is probably innocent. Is he up to the challenge? Dracy isn't sure, but he will enjoy the attempt.

Dracy had been introduced to the Hernescroft house party and none of the ladies had fainted. Some had been uncomfortable, however, so he'd relieved them of his face by strolling out through open doors onto the terrace. After so much time at sea and in foreign lands, he never tired of the English countryside.
He walked up to the stone balustrade, amused by the fancy of being on the poop deck of a ship, with a fair sea spread before him and a brisk wind making music in the sails.
Instead of gray waves he was surrounded by the rolling green of a skillfully designed park, and the music came from the twitter and song of birds. English birdsong was a rare treasure.
He inhaled with satisfaction and realized a sweet perfume rose from below. He leaned forward across the wide coping to find the source. Ah, roses and a honeysuckle vine were climbing the wall. But what were the tall, ungainly plants bearing pale flowers?
"I do hope you're not attempting to put an end to your existence, Lord Dracy."
He straightened but took his time in turning. If that mellow voice didn't belong to Circe, he'd be damned disappointed.
It did, and Lady Maybury, a teasing light in her big blue eyes, was as perfect in the flesh as in the painting, despite a gray dress and a demure cap that hid most of her hair.
In fact, she was even more alluring.
In such a gray frame, she glowed with vitality.
He pulled his wits together and bowed. He almost said, "Lady Maybury," but remembered in time that she was supposed to be a stranger.
"You have the advantage of me, ma'am."
She dipped a curtsy. "The Countess of Maybury, my lord, Lord Hernescroft's daughter. He requested that I take tender care of you, so I fear he'd be most disappointed if you did away with yourself at the terrors of your first social event."
Heaven help him, a gentle wit, good humor, and most wondrous of all, no sign of a flinch at the sight of his face. She'd have been warned, but from the first she'd met his eyes with no hint of discomfort.
There was also no hint that she knew of a special connection between them. In general, he preferred honest dealings, but he'd avoid them for now and enjoy this pleasant moment.
"Hardly my first social occasion, Lady Maybury, but my first with fine English ladies."
"Frightening enough to send you head first off the balustrade, my lord?"
He smiled, testing her with the snarl.
Again, wonder of wonders, no flinch.
"I wasn't attempting suicide, ma'am. I merely wished to discover the magic of the perfume below. Roses and honeysuckle I recognize, but not the tall plants."
She came closer in a soft rustle of skirts and leaned out, but the balustrade was too wide to give her a view.
Dracy scooped her up and sat her on top, keeping an arm around her waist—for safety's sake, of course.
Her beautiful eyes were only a foot from his, the subtle tones of green and blue reminding him of some foreign seas. Her lashes were brandy brown and thick, and even up close her complexion was as perfect as a rose petal. It truly was.
And her scent . . .
Or was that the flowers?
Trapped by his arm, Georgia stilled, heart fluttering, unsure what to do but determined not to show it.
"I was warned you might be rough-and-ready in your ways, my lord, but this . . ."
His expression was slightly, irritatingly, amused. "Blame it on the navy. Are you offended?"
"And if I were?"
"I would instantly return you to the terrace, my lady, and apologize profusely."
"So tame?"
"You would prefer that I complete the offense and tip you over?"
She had to laugh. "You are certainly an original, Lord Dracy."
"Perhaps a gallant one? I hoped to prevent you from snagging your gown."
"It would be no great loss. In twenty-four days I'll be free of mourning and may well burn it. Very well, sir. I will trust you and lean."
She did so but hadn't anticipated that it would press the side of her right breast to his hand. Thank heavens for stays!
"Ah, the perfumed tobacco," she said, straightening quickly. "I doubt you're smelling it now. It releases its scent in the evening. Restore me, please."
"And if I don't, what will you do?"
She counted on her fingers. "One, fend for myself. Two, send you the bill for my ruined gown, for I do have need of it for twenty-four days. Three, inform the world that you're a dastard, my lord."
"Four?" he asked.
"Three will suffice. Shall I begin fending?"
She saw the way he looked at her lips. Lud! He wouldn't!
"We are within sight of the house, sir."
"And if we were not?"
"I would probably slap you."
He laughed and said, "With reason."
He restored her to the ground, but this time she was more aware of being apparently weightless in his strong arms, of being settled back on the terrace with perfect care.
She fussed over the smoothing of her skirts, wishing she could smooth the rest of herself as easily.


You may want to follow my Author Page on Facebook. Click on the box below to go there, and then click the "like" button at the top of the page next to my name. That will help my posts to appear in your feed.




However, Facebook doesn't send every message to everyone who's liked an author page, so it's best to also sign up for my newsletter to be sure you hear the latest about releases, deals and such. The addresses are never shared and you can leave at any time.
Also, there will be occasional giveaways to people randomly picked from newsletter subscribers.

Back to the site menu