The June/July 2006 edition of the newsletter.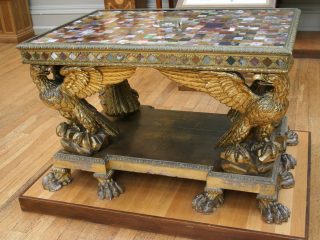 (Another picture from my trip to England. This time from the wonderful The Lady Lever Gallery. Port Sunlight, England. This is a table with an Italian parquetry top on an English gilt wood base. 1820-1830. This sort of table has many quartz specimens in the surface and would have had a chart with which to identify each)


Hi everyone.

It's summer, and my raspberry plants are being generous.

I've put in raspberries everywhere we've lived, so I don't know why it's taken me ten years to do it here. They're so easy to grow, and raspberries are so expensive to buy because they're delicate. They have hardly any shelf life. Why am I talking fruit? Largely because it makes me happy, but there is a writerly connection. It was while picking raspberries that I had the idea for my short SF story, THE FRUIT PICKER. That's not easy to obtain, but you may come across it somewhere. . Check out the novellas for details.

I'm continuing with the new book, which has now been moved closer -- to June 2007 from September. At least my deadline hasn't changed! This is another Rogues World book, so the Rogues aren't over, for sure. This is about Dare's sister, Lady Theodosia and a certain Lord Darien. Darien/Darius, a problem, but he insisted, so the only thing to do was make an issue of it. Darien, then simply Horatio Cave, was at Harrow at the same times as the Rogues, but a year younger. Thus far in this world the Rogues have always been the good guys, but what if to some outsiders they were a pain in the you know what? It's all spinning off from there.

July sees the reissue of , LORD OF MIDNIGHT one of my medievals. I know some of you don't like medievals, but I wish I could persuade you. For warrior males and strong females, nothing can beat it. This book received a starred review from Publishers Weekly, and they're pretty rare, especially for romance.
"...bestselling author, Jo Beverley, weaves a stunning medieval romance of love and redemption."
Great new cover, too.

I hope everyone in the Atlanta region is planning to attend the Romance Writers of America huge booksale and signing in aid of literacy. It's Wednesday evening, July 26th, at the Atlanta Marriott Marquis. Admission is free, but bring plenty of money to buy books! I may not get another newsletter out before then, so mark your calendars.

Don't forget the blog at Word Wenches If you sign up for our occasional newsletter there you'll be entered into free draws for books.

Best wishes for summer fun and a wonderful holiday weekend in North America.

Jo

Return to the newsletter menu to read other issues.



If you'd like to receive this newsletter in e-mail, there are two ways to do so. In both cases, you will only receive the newsletter. There will be no chat or spam.

You can subscribe you to a googlegroup which will send you the newsletter in e-mail. The advantage of ths method is that the newsletter is less likely to be stopped by spam blockers. Also, you can if you wish be in control of how you receive the messages, and also subscribing and unsubscribing.

The second method will subscribe you to a bulk mailing system. The advantage of this is that you need do nothing once you're subscribed. However, bulk mail is increasingly being returned by spam filters and blockers. It can help to add jobev@shaw.ca to your address book or list of approved addresses. I'm sorry, with a large mailing list we can't respond to verification messages.


If this automatic form doesn't work for you,
e-mail here with "Join newsletter list" in the subject line.
If you'd like to chat about the books, you can join Jo's chat list by e-mailing here
Now, there's also a blog which Jo shares with other historical romance authors. Check out Word Wenches at www.wordwenches.com.
---
If any of this web site is difficult to enjoy, please e-mail here