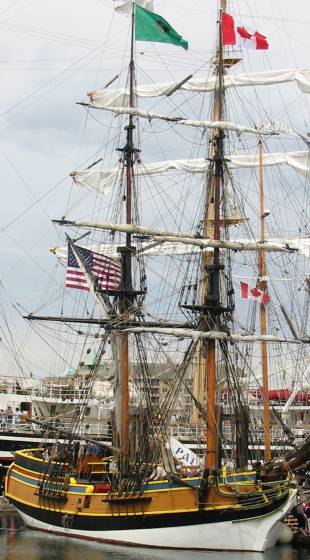 The Lady Washington.



Back to the homepage.

The site menu

Upcoming Books

A List of Titles

Articles on various subjects

About England.

Bio and picture

To contact Jo Beverley

The June 2005 edition of the newsletter.
Now to the news.
Here we are just past midsummer day, so I thought I'd mention that England is pretty far north. It's washed by the Gulf Stream, which gives it a temperate climate, but it's on the same line of latitude as Labrador in Northern Canada. The north of Scotland is on the same latitude as Alaska.
What does this mean? That the length of the days and nights is less moderate than the climate. Winter days are very short; summer days very long, and even more so in Scotland. So forget "long, hot, summer nights." Even if it gets hot enough for a hot night, and that's not usual, it won't be long. On the shortest day, the sun sets at about 8:30, but as we know, it stays light a long time after the sun's gone below the horizon, and it's pushing back the dark again at about 3 am. On the other side, in "the bleak midwinter" the sun rises at about 8 am and sets at about 4pm. Great for long cozy nights by the fireside.
What have I been up to? Here's a visual aid!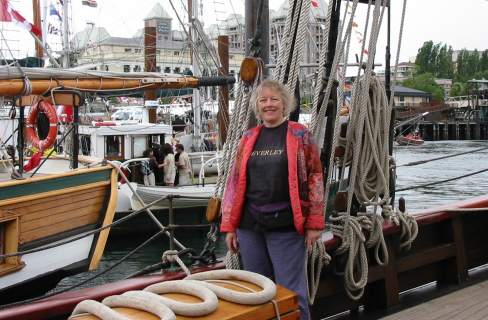 The Tall Ships came to Victoria last week, and I went to enjoy them. And to do some extra research for The Rogue's Return, as Simon and Jancy spend the middle of the book sailing from Canada to England. It was very interesting, though there wasn't a ship exactly like the Eweretta, a real ship of the time I used for my story. Still, the Lynx and the Lady Washington are from the right time period.

There's a web site here.

We're getting close to the Romance Writers of America annual conference in late July. This year it's in Reno, Nevada. If you're within driving distance, please do join us on the evening of Wednesday, July 27th for the massive book sale and signing in support of literacy. Many of your favorite romance writers will be there, including me, and I'd love to see you.

Check out the author list here.

You can see my future signings on my web site.

Check out my entry page. Iíve put up the covers of the two upcoming re-issues, Forbidden Magic (out soon!) and The Shattered Rose. Click here.

What am I writing?

I'm just sending back the copy edited manuscript of The Rogue's Return (Simon St. Bride's story) which is scheduled for March, 2006. I'm currently working on Dare's story, as he fights the grip of opium and the determination of Simon's sister, Mara. I'm still planning to write the story of their ancestor, Ademar de Braque, after whom Mara -- Ademara -- is named, but I'm still deep in research. Which brings me to my blog, where I put the strange things I stumble over while researching. Minepast

Because of the RWA conference at the end of July, I'm going to skip that issue of the newsletter and resume in late August. Enjoy the summer, and remember to share the delights of reading novels. None of that ďa good book should be hard to read nonsense!Ē

All best wishes,

Jo :)

If you wish to receive this newsletter by e-mail subscribe to Jo Beverley's newsletter list by sending your e-mail address here. The addresses are never shared with anyone else.
If this automatic form doesn't work for you,
e-mail here with "Join newsletter list" in the subject line.
and/or you can join her chat list by e-mailing here

---
If any of this web site is difficult to enjoy, please e-mail here